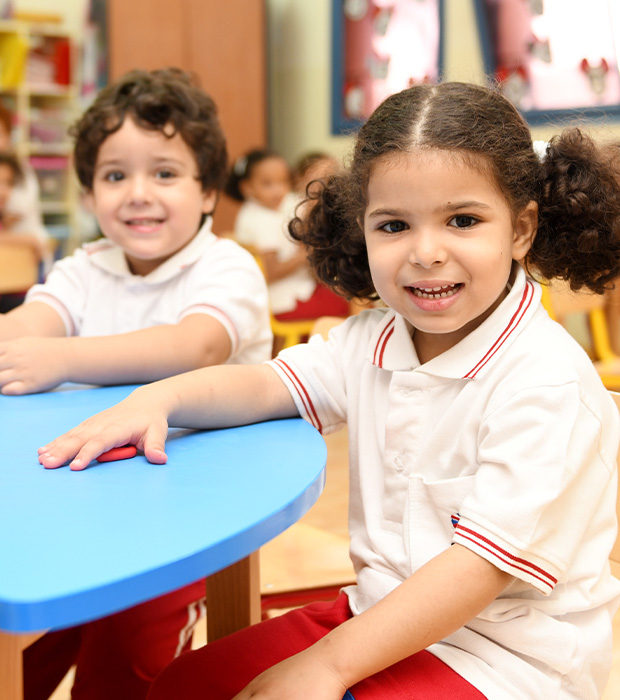 Kindergarten
Overview
Our KG Section is a three years' phase. Children join the Pre-K year starting from the age of three. Our approach in these early years is to blend education with play. We teach through activities and pay a great deal of attention to developing fine and gross motor skills, with instilling basic values of self-independence, sharing, caring and many more.
KG stage has always been the foundation of a child's learning journey; a successful and happy start will secure a love for learning that will help them in their coming years. It is wonderful how children at this stage can develop and acquire new skills. Teaching this age group is most rewarding as a teacher can sense the difference every day. The practice is most successful when the school, parents and the young learners share the same vision. Collaboration will secure a smooth end enjoyable school experience for the child.
Children at this age are extremely curious; they have a notion for discovery which is a fundamental base to build on. Our KG curriculum is based on the new curriculum provided by the Ministry of Education, which lays more weight on speaking skills, refining the child's motor and gross skills and unleashing their imagination.
Our core subjects are: English, Mathematics, Arabic, Computing, Music and PE. A special focus is given to teaching phonetics and to enhancing presentation skills through our regular Show and Tell curriculum.
We care about the personal, social and emotional development of our children and accordingly we try to teach our children to be kind, to share and care about others, to be confident and believe in themselves and their abilities, listen actively and respond thoughtfully, to understand their own feelings and express their thoughts freely. Resolving conflicts and meditation are life skills which we always enhance at this early age.
As we share bringing up these young minds, we learn everyday a new lesson, we become more aware and challenge ourselves with a new opportunity.
School Educational Events
Celebrating events in our school is an integral part of learning and building a strong relationship between students and their teachers. Children become actively engaged and learning becomes easier when they are interested and enjoying themselves.
Throughout the year we celebrate a lot of events; Show and tell, Clown Day, Animal Show Day, Pyjamas Day, Career Day, Popcorn Day, Colours Days, Fashion Show Day, Crazy hair Day, Olympic Fun Day, Masquerade Day, Egyptian National Day, and Mothers Breakfast Party.
Learning Outcomes
Kindergartners can
Enjoy read to sessions where they retell simple narrative or informational text.
Read simple stories.
Use descriptive language to explain and explore.
Recognise letters and letter-sound matches.
Recognise all the vocabulary related to the letters and have social experience.
Show familiarity with rhyming and beginning sounds.
Match spoken words with written ones.
Begin to write letters of the alphabet, CVC words and high-frequency words.
Speak and understand English well.
Recognise and write numbers up to 50.
Recognise all shapes and colours.
Do all simple mathematical operation addition, subtraction…etc.
Grasp simple science information like living and non-living, parts of the body, 5 senses.
Present different themes and items through Show and tell as a part of our class room's activities that help in strengthening children's Language skills (oral and listening skills) as children learn to use descriptive language.
Show and tell also helps to grow and develop their social emotional as they share their special items with others.
What teachers do
Encourage children to read and write.
Provide many opportunities for children to explore and identify sound-symbol relationships in a meaningful context.
Help children to segment spoken words into individual sounds and blend the sounds into whole words.
Frequently read interesting and conceptually rich stories to children.
Provide daily opportunities for children to write.
Help children to build sight vocabulary.
Help students to learn about their own strengths, unique characteristics and skills set.
Encourage creativity.
Assessing students' age-appropriate developmental milestones including fine motor skills.
Teach their students how to reason, with an objective of helping them assess a situation, and make a decision based on available information. Reasoning is taught through storytelling and role playing.
Teaching basics math skills through grouping and sorting activities, playing math games, and through basic addition and subtraction exercise.