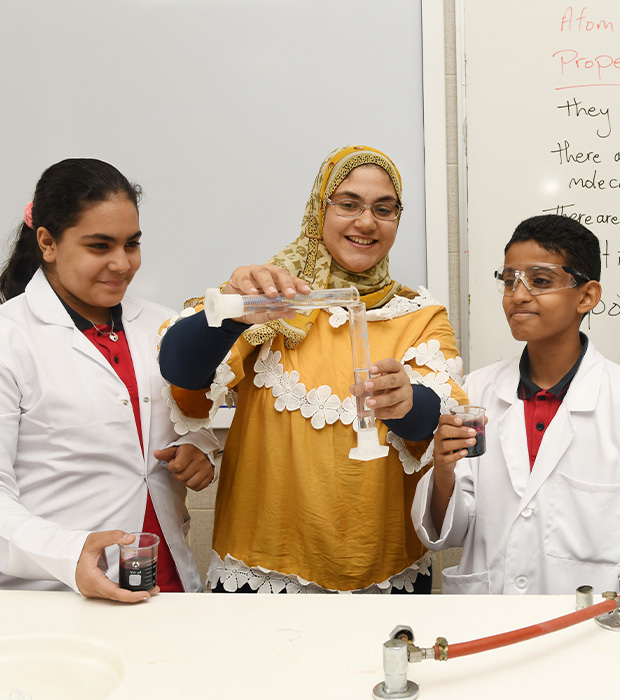 Preparatory School
Welcome Message by the Head
"The task of modern educators is not to
cut down jungles, but to irrigate desserts" - C.S. Lewis
Paving a correct educational path for our young minds will require goals that bring out the best in each child by recognizing, encouraging, and developing their unique skills and respect individual differences. Students are treated as independent citizens who think for themselves, with their own aspirations, potential and talents.
Throughout Preparatory stage, short term goals are developed to ensure that all students are comfortable, well settled, and happy at heart, while long term goals are set to measure performance, target advancement in progress and development of life-long skills.
With all that in mind, students are engaged through endless curricular and social projects aiming to enable them to practice both team and character building, place gained knowledge into fruitful action and acquire the mindset to cope with a fast-changing world.
By offering them advanced teaching strategies and methodologies to guarantee that every child is catered fairly to his or her own level and supported throughout their learning journey – one that will help them nurture fundamental skills as well as challenge them to excel and exceed in core subjects.
Always keeping in mind, that every student deserves to enjoy this educational journey, by making learning fun, challenging and relevant in an environment that is welcoming, safe and stimulating, we prepare them through steady and successful steps towards changing the world.
We look forward to welcoming you to the Preparatory Stage!
Heba Zahran
Curriculum Overview
Our curriculum is the Egyptian National Curriculum, and we follow the framework that has been put by the Ministry of Education. This curriculum is multidisciplinary and emphasises the unity of all subjects avoiding repetition. At MILS we teach our students Math, Science, History, Geography, Art and Music, Arabic and Social Studies amongst other subjects as well. Being a language school, we put a huge emphasis on English language to successfully accomplish our learning objectives.
Preparatory Section
Middle school is a very critical phase in a young teenager's social and emotional development. A deeper understanding is required from the educator's part in collaboration with the parents and the students themselves. At MILS, we embrace our students for what they are and work on how we want them to be. We promote engagement with peers, teachers and heads through different competitions, team projects, entertainment and field trips. Participating in community service projects through paying visits to hospitals and orphanages and special needs organisations and gathering donations, enhances their citizenship and cultural awareness. We take the well-being of our students to our heart and believe that it ensures smooth academic progress.
The Egyptian National Curriculum is a rich and broad curriculum which requires experienced, qualified teachers to deliver efficiently. English and French high level instruction covers all aspects of the language including literature study; Drama, Novel and Poetry in depth. Students are now expected to be fluent in foreign languages in addition to their own mother tongue. The differentiation now between the three branches of General Science is evident. Similarly, the Social Studies curriculum becomes more elaborate. Students at this phase can identify their preferences and make plans for their future studies in Secondary Stage. By the end of this stage students sit for ministerial exams which are set and marked externally.